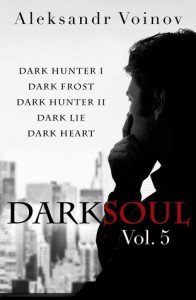 [b:Dark Soul Vol. 5|13484185|Dark Soul Vol. 5 (Dark Soul, #5)|Aleksandr Voinov|http://d202m5krfqbpi5.cloudfront.net/books/1329242697s/13484185.jpg|19019161]
Coming highly recommended by so many friends, I couldn't resist from checking out this series and I wasn't disappointed.
This was one gritty, erotic, sexy and addicting read! I immediately fell under the spell of the seductive and highly sexual Silvio, as did Stephano!
I was afraid of where it was heading, but, as usual Alexsandr pulled off an amazing finish! My only complaint is that the books were too
short</> and that this series is over.

Aleksandr, I applaud your skill and will be checking out all of your books.